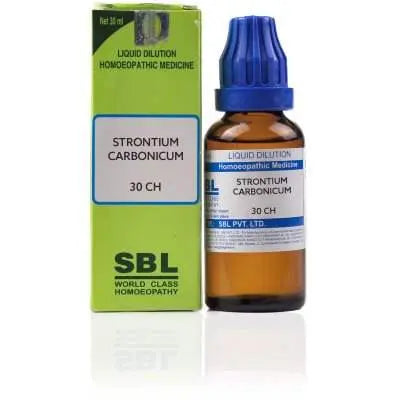 Translation missing: en.products.product.price.regular_price
$4.39
Translation missing: en.products.product.price.sale_price
$4.39
Translation missing: en.products.product.price.regular_price
$7.39
Tax included.
Estimated Delivery:Sep 30 - Oct 04

Free Shipping available on orders above $59 USD

Product description
Shipping
Product reviews
Causes & Symptoms of SBL Strontium Carbonicum :
Sprains and bone affections are the main seat of affection in Strontium carbonicum.
The femur is specially affected by the medicine.
Bone affections of children when associated with diarrhoea.
Diarrhoea, worse at night, is very urgent, can scarcely leave the vessel before having to return.
In chronic sprains of the ankle when oedema exists is an indication of Strontium carbonicum.
Mind and Head:
Headaches are boring, pressive, and tensive. Excessive forgetfulness is an indication of Strontium carbonicum.
Scalp is too tight, worse in evening when lying with head low, tendency of hair to fall out with irritation of scalp.
Eyes, ear, nose:
Burning in eyes. Violent jerking and quivering of eyelids, Red and blue circles before eyes, after rubbing them.
Sticking in front of left ear, Twitching of left side of nose is an indication of Strontium carbonicum
Mouth and Throat:
Itching of face, of right cheek, worse by scratching. Tearing at root of teeth.
Gums swollen, painful when touched. Sensation of numbness and of dryness in mouth.
Stomach and abdomen:
Pressure in stomach is better by eating, and worse after a meal
Heartburn, distension of abdomen, flatus with dull aching across waist is relieved with this remedy.
Pressure in stomach, with sensation of fullness in abdomen, especially after a meal.
Stool and Anus:
Burning sensation in anus, during and after a stool. Pain, as from hemorrhoids in rectum.
Urinary complaints:
Increased secretion of a yellow, deep-colored urine.
Male complaints:
Pressive pain in right spermatic cord while urinating.
Female complaints:
Menses too early and of too short a duration. Dyspnoea, when walking, with heat and redness of face.
Neck and Back:
Sensations as if bruised in back and sacrum, worse from stooping and when touched.
Extremities:
Sciatica accompanied by oedema of left ankle. Complaints of coldness in spots on calves of legs.
Immobility of the limbs, on one side only, trembling of the limbs. Tearings in arms hands, and fingers, especially in joints.
Tearing pains in the limbs, especially in the joints, worse in the evening, and at night in bed.
Jerkings and tearings in legs, feet, and toes, especially in joints is relieved with Strontium carbonicum.
Great lassitude and depression, morning and evening.
Skin:
Eruption of small pimples in different parts is an indication of Strontium carbonicum.
Generalities:
External soreness with also numbness with emaciation, motion worse, walking especially aggravates.
Thank you for visiting and shopping at Texinkart.com. When you make a purchase from our store, Make sure that you agree to the terms and conditions outlined below.
Transit time & Handling time: 
Handling time: 1- 4 Days ( Monday - Friday )
Transit time: EXPRESS SHIPPING: 3-7 Days ( Monday - Friday ) 

Order Cut off Time: 8:00 AM (GMT-05:00) Eastern Standard Time (Monday to Friday)


Shipping Carriers:
DHL Express Worldwide / FEDEX International Priority / UPS Express Saver

We ship to the following countries:

USA, United Kingdom, United Arab Emirates, Singapore, Malaysia, Australia, New Zealand, Nigeria, France, South Korea


Shipping rates:
| | |
| --- | --- |
| Order Value |  Express Shipping Fee |
| $ 0 - $ 9.99 USD | $ 19.99 USD  |
| $ 10 - $ 19.99 USD | |
| $ 20 - $ 29.99 USD | $ 14.99 USD |
| $ 30 - $ 39.99 USD | $ 12.49 USD |
| $ 40 - $ 58.99 USD | $ 9.99 USD |
| $ 59 USD & above |  FREE |
 
For any Shipping / Order tracking related queries, Feel free to contact us on: hello@texinkart.com
Wrong address:
If You provide a wrong address during purchase and the product is returned to us, you have to pay the shipping costs for the returned shipment.
Tracking an order:
You'll receive an e-mail confirmation after order dispatch along with your shipment tracking number, and the tracking link redirects to the carrier's website. If you require any further information, please visit our Contact Us page.
Address Change:
We cannot change the delivery address after shipment dispatch. If you need to change the address before dispatch, please contact us within 24 hours of placing your order at hello@texinkart.com
Get in touch with us at- 
Email: hello@texinkart.com
Address:
5/441, Thiruvalluar Nagar,
Thanakkankulam,
Madurai 625006 IN