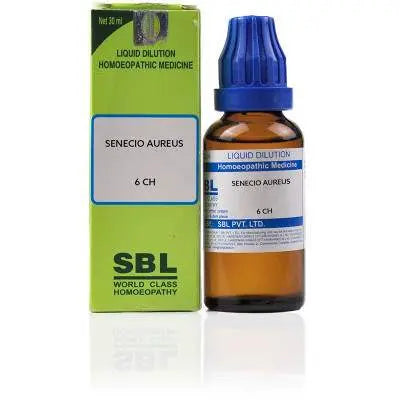 Translation missing: en.products.product.price.regular_price
$4.39
Translation missing: en.products.product.price.sale_price
$4.39
Translation missing: en.products.product.price.regular_price
$7.39
Tax included.
Estimated Delivery:Oct 07 - Oct 11

Free Shipping available on orders above $59 USD

Product description
Shipping
Product reviews
Description of SBL Senecio Aureus :-
Causes & Symptoms for Senecio aureus A medicine that helps to regulate the menses in young girls. Senecio aureus is indicated for epistaxis or nasal catarrh that takes place instead of menses. Menses may be profuse and early, or they may be retarded or absent. Pains are radiating, shifting, lancinating for the indication of Senecio aureus. Hemorrhage from all the mucous membranes of the body indicates the sphere of action of Senecio aureus. Mind and Head Senecio aureus is used for irritable, worried, nervous people, worse sitting still, must move about. Inability to fix mind on one subject for any length of time indicates Senecio aureus. Sharp lancinating pains in left temple, upper part of left eye and inside of left lower jaw. Sharp shooting pains from within outward in forehead, sharp shooting pains over and in eyes, catarrh, suppressed secretion. Eyes, Nose Eyes and lids burn. Sharp pains from within outward, left eye, dark rings round eyes is relieved with Senecio aureus. Coryza with nose-bleed. Nasal bleeding during menses. Mouth and Throat Lancinating pain in the right side of face, right shoulder, left breast. Teeth tender and sensitive, mouth and fauces dry and hot is resolved with Senecio aureus. Throat and nose feel very dry. Stomach and abdomen Colic is better bending forward, and better by stool. Nausea from renal derangement, abdomen much enlarged and very tense is relieved with Senecio aureus. Stool and Anus Stool copious with great debility and prostration in hard lumps mixed with yellow mucus. Urinary complaints Dysuria of women and children with mucous sediment in the urine is an indication of Senecio aureus. Renal colic, the pains being so great that they produce nausea. Irritation of bladder in children, preceded by heat in head and headache. Increased urinary secretion. Intense pain over right kidney, severe pain during urination, urine red, hot, acrid, bowels constipated. Male complaints Dull heavy pain in left spermatic cord, moving along cord to testicle indicates Senecio aureus. Prostatic gland enlarged, feels hard and swelled to touch is resolved with Senecio aureus. Female complaints Painful menstruation, profuse flow of mucus from vagina, symptoms as if menses would appear, but they fail. Menses every three weeks, profuse, lasting eight or nine days, accompanied by much cutting pain in sacrum, hypogastrium, and groins. When the menstrual flow is suppressed sometimes many months, Senecio aureus is a most useful medicine for establishing the menstrual flow. Neck and Back Sharp, lancinating pains in lumbar region. Cutting pains in region of sacrum, with too early or too profuse menses. Wandering pains in back and shoulders, pain in joints relieved with Senecio aureus. Extremities Sharp, sticking pain in left shoulder. Constant desire to keep feet in motion. Skin Skin dry, nails brittle. Generalities In chronic coughs, catarrhal affections, Wants to lie down, stitches in different parts of body. Palliated cough and bloody sputa in a woman far gone with consumption, and brought back menses, which were absent four months. Slight exertion causes fainting better at onset of menses.
Thank you for visiting and shopping at Texinkart.com. When you make a purchase from our store, Make sure that you agree to the terms and conditions outlined below.
Transit time & Handling time: 
Handling time: 1- 4 Days ( Monday - Friday )
Transit time: EXPRESS SHIPPING: 3-7 Days ( Monday - Friday ) 

Order Cut off Time: 8:00 AM (GMT-05:00) Eastern Standard Time (Monday to Friday)


Shipping Carriers:
DHL Express Worldwide / FEDEX International Priority / UPS Express Saver

We ship to the following countries:

USA, United Kingdom, United Arab Emirates, Singapore, Malaysia, Australia, New Zealand, Nigeria, France, South Korea


Shipping rates:
| | |
| --- | --- |
| Order Value |  Express Shipping Fee |
| $ 0 - $ 9.99 USD | $ 19.99 USD  |
| $ 10 - $ 19.99 USD | |
| $ 20 - $ 29.99 USD | $ 14.99 USD |
| $ 30 - $ 39.99 USD | $ 12.49 USD |
| $ 40 - $ 58.99 USD | $ 9.99 USD |
| $ 59 USD & above |  FREE |
 
For any Shipping / Order tracking related queries, Feel free to contact us on: hello@texinkart.com
Wrong address:
If You provide a wrong address during purchase and the product is returned to us, you have to pay the shipping costs for the returned shipment.
Tracking an order:
You'll receive an e-mail confirmation after order dispatch along with your shipment tracking number, and the tracking link redirects to the carrier's website. If you require any further information, please visit our Contact Us page.
Address Change:
We cannot change the delivery address after shipment dispatch. If you need to change the address before dispatch, please contact us within 24 hours of placing your order at hello@texinkart.com
Get in touch with us at- 
Email: hello@texinkart.com
Address:
5/441, Thiruvalluar Nagar,
Thanakkankulam,
Madurai 625006 IN