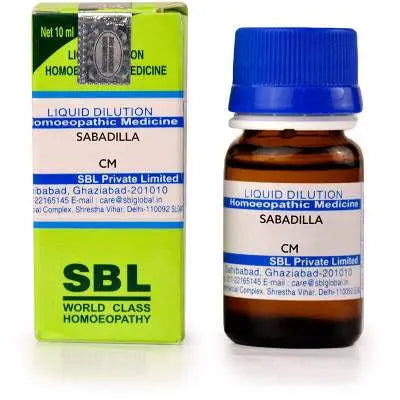 Translation missing: en.products.product.price.regular_price
$7.81
Translation missing: en.products.product.price.sale_price
$7.81
Translation missing: en.products.product.price.regular_price
$10.81
Tax included.
Estimated Delivery:Oct 07 - Oct 11

Free Shipping available on orders above $59 USD

Product description
Shipping
Product reviews
Description of SBL Sabadilla :-
Causes & Symptoms for Sabadilla Every time he takes cold it settles in his nose and throat. Violent acute inflammation of the mucous membrane of nose, throat, trachea and larynx indicates Sabadilla. Catarrhal condition of the nose, with constant sneezing, burning; stuffing up of the nose. Sleepiness comes on from thinking, meditating, reading in this remedy. Violent itching of hairy scalp, compelling her to scratch till blood comes indicates Sabadilla. Sabadilla patients wants to be well wrapped up; wants hot drinks to warm up his stomach. A routine remedy in pin worms, seat worms, all sorts of worms stomach and tape worms. Mind and Head Easily startled, Imagines that he is very sick; that parts are shrunken;indicates Sabadilla. Vertigo early in the morning after rising, Stupefying headaches with coryza, frontal pains and redness of eyelids. Intolerant of mental exertion, thinking causes headache. Forehead covered with cold sweat. Eyes, Ear, nose Redness of margins of eyelids. Lachrymation, especially during exercise in open air, when looking at anything bright indicates Sabadilla. Burning itching and shootings in tips of ears. Over-sensitiveness to odors. The coryza is ameliorated from inhaling hot air. Violent sneezing; copious watery discharge from the nose. Great sensibility to smell of garlic indicates Sabadilla. Mouth and Throat The burning sensation, pain as from excoriation, pricking and itching tingling in lips is resolved with Sabadilla. Sabadilla relieves the itching in the roof of the mouth, on the soft palate. Old sore throats that are worse from cold air. The soreness, pain and inflammatory conditions of the throat begin on the left side and spread to the right relieved by heat. Hawks constantly, worse morning and during and after eating. Stomach and abdomen Spasmodic pain in stomach with dry cough and difficult breathing. Empty feeling in stomach. Desire for hot things, that relieves his complaints indicates Sabadilla. Chilliness sets in with nausea and inclination to vomit. Boring, digging, and rolling in abdomen. Stool and Anus Itching of anus and rectum as from ascarides and childrens diarrhoea with constant cutting pains indicates Sabadilla. Very difficult stools with much burning in abdomen and sensation as if something alive in abdomen. Itching of anus, violent burning after scratching. Urinary complaints Burning in urethra when urinating.Urgent want to urinate, especially in evening, with tenesmus and scanty emission Male complaints Tensive and painful erections, without desire for coition. Flaccidity of penis. Female complaints Cutting pains, as from knives, in ovary indicates Sabadilla. Menses too late yet for a longer duration, painful bearing down for a few days. Hot flushes with heat of face and hands. Neck and Back Burning-tingling stinging sensation between scapulae. Pain in back and loins, especially when seated. Extremities Coldness of the limbs. Trembling of arms and hands. Dryness of skin of hands. Tearing and tension in calves of legs, shootings in thighs and knees indicates Sabadilla. Cracking of skin under and beneath toes, Tingling in the limbs. Skin Red bands, spots, and points in different parts of skin, appearing with greatest intensity in cold air indicates Sabadilla. Generalities The heat is more perceptible in the face and on the hands than on the rest of the body, with absence of thirst both in the chilly and hot stage indicates Sabadilla. Sensitive to the cold air, a cold room, cold food indicates Sabadilla. There is staggering and even fainting, convulsive tremblings, or catalepsy from worms. Better from moving, while swallowing something, while getting warm, from warmth in general.
Thank you for visiting and shopping at Texinkart.com. When you make a purchase from our store, Make sure that you agree to the terms and conditions outlined below.
Transit time & Handling time: 
Handling time: 1- 4 Days ( Monday - Friday )
Transit time: EXPRESS SHIPPING: 3-7 Days ( Monday - Friday ) 

Order Cut off Time: 8:00 AM (GMT-05:00) Eastern Standard Time (Monday to Friday)


Shipping Carriers:
DHL Express Worldwide / FEDEX International Priority / UPS Express Saver

We ship to the following countries:

USA, United Kingdom, United Arab Emirates, Singapore, Malaysia, Australia, New Zealand, Nigeria, France, South Korea


Shipping rates:
| | |
| --- | --- |
| Order Value |  Express Shipping Fee |
| $ 0 - $ 9.99 USD | $ 19.99 USD  |
| $ 10 - $ 19.99 USD | |
| $ 20 - $ 29.99 USD | $ 14.99 USD |
| $ 30 - $ 39.99 USD | $ 12.49 USD |
| $ 40 - $ 58.99 USD | $ 9.99 USD |
| $ 59 USD & above |  FREE |
 
For any Shipping / Order tracking related queries, Feel free to contact us on: hello@texinkart.com
Wrong address:
If You provide a wrong address during purchase and the product is returned to us, you have to pay the shipping costs for the returned shipment.
Tracking an order:
You'll receive an e-mail confirmation after order dispatch along with your shipment tracking number, and the tracking link redirects to the carrier's website. If you require any further information, please visit our Contact Us page.
Address Change:
We cannot change the delivery address after shipment dispatch. If you need to change the address before dispatch, please contact us within 24 hours of placing your order at hello@texinkart.com
Get in touch with us at- 
Email: hello@texinkart.com
Address:
5/441, Thiruvalluar Nagar,
Thanakkankulam,
Madurai 625006 IN