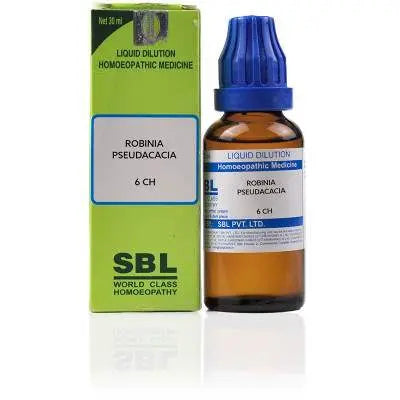 Translation missing: en.products.product.price.regular_price
$4.39
Translation missing: en.products.product.price.sale_price
$4.39
Translation missing: en.products.product.price.regular_price
$7.39
Tax included.
Estimated Delivery:Oct 07 - Oct 11

Free Shipping available on orders above $59 USD

Product description
Shipping
Product reviews
Description of SBL Robinia Pseudacacia :-
Tincture of fresh root bark. Tincture of fresh bark of young twigs. Trituration of the beans is used for preparation of medicine.It is said to be native of North america. Its dried leaves are helpful in treatment of wounds caused by burns. Common Name: Robinia, Black locust Causes & Symptoms for SBL Robinia Pseudacacia Robinia is one of the most effective remedy in complaints of hyperacidity. Acidity accompanied with frontal headache and Burning pains that are mainly aggravated at night time are treated well with this remedy. Sour smell of all discharges is present in all the complaints where we need to indicate Robinia. Mind: Robinia is useful in complaints of Mental depression, constant thoughts of recovery of stomach complaints, Stomach complaints that make her cry and prevents sleep. Head: Dull of head with vertigo, sensation as if Brain is revolving aggravted by lying on right side. Sick headache, with sour stomach that is caused due to fat meat, gravies, flatulent food, cabbage, turnips, warm bread, pastry, ice-creams, raw fruits. Mouth: Pain in the jawbones as if it is disarticulated is seen in Robinia Patients. Burning pains in the teeth with bleeding gums, pain that extend to the cheeks, aggravated at night and after eating spicy food. Stomach, Stools and Rectum: Sour eructation with sour vomiting is reduced with help of Robinia. Pain in the stomach with excessive appetite, yet the pain prevails after 2 hours of eating, with constant desire to pass stool is reduced with help of Robinia. Gastric complaints along with headache aggravation by motion is treated well. Constant sensation of fullness and weight in the stomach, aggravated mainly after eating. Constipation with ineffectual urging. Heat and pressure in epigastrium, cramps in extremities, weakness and extreme prostration is reduced with help of Robinia. Sour stools passed by infants, with sour smell of the body, vomiting of sour milk is commonly seen in the remedy indications. Urinary complaints: Scanty and painful urination is commonly recovered with this remedy. Female complaints: Discharge of blood like hemorrhage, between the menstrual cycles with black discharge during menses. Leucorrhoea with itching and pains is seen in patients who need this medicine.
Thank you for visiting and shopping at Texinkart.com. When you make a purchase from our store, Make sure that you agree to the terms and conditions outlined below.
Transit time & Handling time: 
Handling time: 1- 4 Days ( Monday - Friday )
Transit time: EXPRESS SHIPPING: 3-7 Days ( Monday - Friday ) 

Order Cut off Time: 8:00 AM (GMT-05:00) Eastern Standard Time (Monday to Friday)


Shipping Carriers:
DHL Express Worldwide / FEDEX International Priority / UPS Express Saver

We ship to the following countries:

USA, United Kingdom, United Arab Emirates, Singapore, Malaysia, Australia, New Zealand, Nigeria, France, South Korea


Shipping rates:
| | |
| --- | --- |
| Order Value |  Express Shipping Fee |
| $ 0 - $ 9.99 USD | $ 19.99 USD  |
| $ 10 - $ 19.99 USD | |
| $ 20 - $ 29.99 USD | $ 14.99 USD |
| $ 30 - $ 39.99 USD | $ 12.49 USD |
| $ 40 - $ 58.99 USD | $ 9.99 USD |
| $ 59 USD & above |  FREE |
 
For any Shipping / Order tracking related queries, Feel free to contact us on: hello@texinkart.com
Wrong address:
If You provide a wrong address during purchase and the product is returned to us, you have to pay the shipping costs for the returned shipment.
Tracking an order:
You'll receive an e-mail confirmation after order dispatch along with your shipment tracking number, and the tracking link redirects to the carrier's website. If you require any further information, please visit our Contact Us page.
Address Change:
We cannot change the delivery address after shipment dispatch. If you need to change the address before dispatch, please contact us within 24 hours of placing your order at hello@texinkart.com
Get in touch with us at- 
Email: hello@texinkart.com
Address:
5/441, Thiruvalluar Nagar,
Thanakkankulam,
Madurai 625006 IN