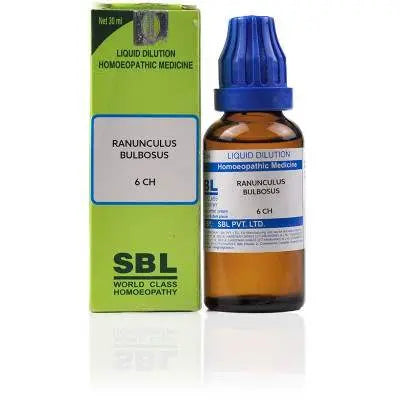 Translation missing: en.products.product.price.regular_price
$4.39
Translation missing: en.products.product.price.sale_price
$4.39
Translation missing: en.products.product.price.regular_price
$7.39
Tax included.
Estimated Delivery:Sep 30 - Oct 04

Free Shipping available on orders above $59 USD

Product description
Shipping
Product reviews
Description of SBL Ranunculus Bulbosus :-
Causes & Symptoms for Ranunculus Bulbosus Ranunculus Bulbosus is a chief remedy for herpes zoster and chronic sciatica. Herpes zoster with vesicular erruptions, appearing with, preceeded or followed by intercostal neuralgia. The vesicles have a bluish appearance with intense burning. Ranunculus Bulbosus also helps in corns on soles of feet, which are very sensitive to touch with smarting and burning pain. Ranunculus Bulbosus is also a remedy for chronic sciatica, writers cramp and professional neurosis. Pain is worse by slightest movement or motion, contact, atmospheric changes, wet stormy weather and in the evening. Ranunculus Bulbosus is also well indicated in chest affections especially intercostal rheumatism. Intercostal muscles affected in the form of rheumatism, neuralgia, myalgia or even pleura is affected. Chest conditions caused by exposure to cold, physical exertion is relieved by it. Ranunculus Bulbosus is useful in Muscular pain in the margins of the shoulder blades in females from needle work, type writing or piano playing. It relieves Pain which is stitching, sharp, shooting in character. Head Irritable, pains in forehead and eyeballs is relieved by Ranunculus Bulbosus. There is Creeping sensation in scalp. It relieves Pressing pain in forehead from within outward. Eyes Ranunculus Bulbosus is useful for Day-blindness; mist before eyes; pressure and smarting in eyes, as from smoke. It recommended for Pain over right eye; better, standing and walking, Herpes on cornea. Vesicles on cornea, with intense pain, photophobia, and lachrymation. Chest Ranunculus Bulbosus relieves Various kinds of pains and soreness, as if bruised in sternum, ribs, intercostal spaces, and both hypochondria. Inter-costal rheumatism. Chilliness in chest when walking in open air is felt. It is indicated in complaint of Stitches in chest, between shoulder-blades; worse, inspiring, moving. Rheumatic pain in chest, as from subcutaneous ulceration. Tenderness of abdomen to pressure is checked by Ranunculus Bulbosus. Muscular pain along lower margin of the shoulder-blade; burning in small spots from sedentary employment is relieved by Ranunculus Bulbosus. Skin Ranunculus Bulbosus is useful in relieving Burning and intense itching; worse, contact. Hard excrescences. It is also used in Herptic eruptions, with great itching, Shingles, bluish vesicles. Itching in palms, Blister-like eruption in palms s relieved by Ranunculus Bulbosus. Ranunculus Bulbosus is useful in Corns sensitive, Horny skin. Finger-tips and palms chapped Vesicular and pustular eruptions. Modalities: Worse, open air, motion, contact, atmospheric changes, wet, stormy weather, evening. Cold air brings on all sorts of ailments.
Thank you for visiting and shopping at Texinkart.com. When you make a purchase from our store, Make sure that you agree to the terms and conditions outlined below.
Transit time & Handling time: 
Handling time: 1- 4 Days ( Monday - Friday )
Transit time: EXPRESS SHIPPING: 3-7 Days ( Monday - Friday ) 

Order Cut off Time: 8:00 AM (GMT-05:00) Eastern Standard Time (Monday to Friday)


Shipping Carriers:
DHL Express Worldwide / FEDEX International Priority / UPS Express Saver

We ship to the following countries:

USA, United Kingdom, United Arab Emirates, Singapore, Malaysia, Australia, New Zealand, Nigeria, France, South Korea


Shipping rates:
| | |
| --- | --- |
| Order Value |  Express Shipping Fee |
| $ 0 - $ 9.99 USD | $ 19.99 USD  |
| $ 10 - $ 19.99 USD | |
| $ 20 - $ 29.99 USD | $ 14.99 USD |
| $ 30 - $ 39.99 USD | $ 12.49 USD |
| $ 40 - $ 58.99 USD | $ 9.99 USD |
| $ 59 USD & above |  FREE |
 
For any Shipping / Order tracking related queries, Feel free to contact us on: hello@texinkart.com
Wrong address:
If You provide a wrong address during purchase and the product is returned to us, you have to pay the shipping costs for the returned shipment.
Tracking an order:
You'll receive an e-mail confirmation after order dispatch along with your shipment tracking number, and the tracking link redirects to the carrier's website. If you require any further information, please visit our Contact Us page.
Address Change:
We cannot change the delivery address after shipment dispatch. If you need to change the address before dispatch, please contact us within 24 hours of placing your order at hello@texinkart.com
Get in touch with us at- 
Email: hello@texinkart.com
Address:
5/441, Thiruvalluar Nagar,
Thanakkankulam,
Madurai 625006 IN