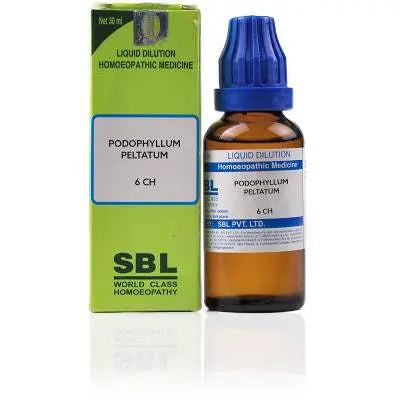 Translation missing: en.products.product.price.regular_price
$4.39
Translation missing: en.products.product.price.sale_price
$4.39
Translation missing: en.products.product.price.regular_price
$7.39
Tax included.
Estimated Delivery:Oct 07 - Oct 11

Free Shipping available on orders above $59 USD

Product description
Shipping
Product reviews
Description of SBL Podophyllum Peltatum :-
Causes & Symptoms for Podophyllum Fullness in stomach, belching of gas, sour eructations, marked salivation ad offensive odor from mouth. Hungry after vomiting. Pains in the ovaries, especially the right, extending down the anterior and inner side of thighs. Moaning and whining during sleep is relieved with Podophyllum. Burning tongue is another leading symptom of this remedy. It shows its symptoms largely on the abdominal organs, the pelvic organs, and the liver. Pains in sacrum, in lumbar region with rectal and uterine symptoms, , cramps in calves with stools. Patient takes cold, has any mental excitement, over exerts himself, eats boiled food, cabbage, fruits. Patient is constantly shaking and rubbing region of liver with his hands. Mind and Head Great depression, sadness, mind easily fatigued; fidgety and rest less, cannot sit still, whole body fidgety. Headache alternating with liver disturbances, periodic, violent headaches, alternating diarrhea and constipation is a feature of podophyllum. Dull headache in the forehead, with soreness of the forehead and eyes. Chronic headache, periodic headache, sick headache, congestive in character indicates Podophyllum. Pain as if the head would burst, the pains most violent in the back of the head, bursting, and then on comes a diarrhea which relieves the head. Eyes, ear, nose Heaviness of eyes with occasional pains, inflammation of lids. Aching pain in right ear is relieved with Podophyllum. Soreness and little pimples on nose. Mouth and Throat Hot, flushed cheeks, offensive breath, at night, mouth and tongue dry on awaking indicates Podophyllum. Soreness of throat extending to ears, nausea and vomiting with fullness of head, rattling of mucus in throat. Bitter taste in the mouth with dryness of the throat. Soreness extending to the ears. Stomach and abdomen Acidity of the stomach, nausea and vomiting, heart-burn, heat and throbbing in the stomach, followed by diarrhoea. Pain in the abdomen, the colic is relieved by warmth and by bending forward while lying on the side. Everything taken into the stomach becomes sour.Uneasiness and distress about two or three hours after eating, with jaundice. It is useful in horrible nausea and aversion to food with empty all-gone feeling in the bowels. Feeling of fullness weight and dragging in the hypochondria, especially in the right, with stitches twisting pain, and heat is relieved with Podophyllum. Abdomen is sensitive; so sore that cannot bear the touch or pressure, relieved by the stool Podophyllum produces chalky evacuations, which are very offensive. Gastric weakness; unable to digest Stool and Anus The anus is extremely sore, in haemorrhoids, in dysentery, and in certain watery diarrhoeas Podophyllum gives good results. The yellow, watery diarrhoea alternates with a morning headache. Bowels with rumbling, pain, and soreness, and the prostration. The sensation of dragging down as if all the parts would be pushed out into the world is a common feature indicates Podophyllum. Diarrhoea immediately after eating and drinking. Urinary complaints Enuresis, Micturition painful, scanty, urination immediately after drinking, frequent, profuse. Male complaints Inflammation of scrotum is attended with a pustular eruption which suppurates freely is relieved with Podophyllum. Female complaints It is useful in bearing down in the hypogastric and sacral regions, increased by motion and relieved by lying down dueing the menses. Pain in the region of the right ovary with copious diarrhea during the menstrual period, Great soreness of the abdomen before and during the menstrual period. The uterus is extremely sore and uterine region is enlarged,sore to touch so that light clothing aggravates indicates Podophyllum. Numb aching in left ovary, extreme tenderness of uterus, backache, sick feeling and enuresis on lying down. Neck and Back Pain in small of back, when walking or standing, with sensation of back bending inward. Sacral pain, pain under right scapula, Nape of neck stiff, muscles soreness is relieved with Podophyllum. Pain in lumbar and sacral regions worse during stool. Extremities Pains from head into neck and shoulders, with weakness of wrists, sore to touch is relieved with Podophyllum. Pain in course of ulnar nerve of both arms, Cracking in knee from motion indicates Podophyllum. Cramps in calves, thighs, and feet, with painless, watery stools. Skin Scabs on arms and legs, Rawness and itching of genitals, also pustules. Intolerable itching of body and arms, skin moist with natural warmth. Generalities The body is offensive. Sensation of suffocation on first lying down at night. Drowsiness or restless sleep, with grinding of teeth or rolling of head. Great restlessness, tossing about in bed, yawning and stretching, which better completely.
Thank you for visiting and shopping at Texinkart.com. When you make a purchase from our store, Make sure that you agree to the terms and conditions outlined below.
Transit time & Handling time: 
Handling time: 1- 4 Days ( Monday - Friday )
Transit time: EXPRESS SHIPPING: 3-7 Days ( Monday - Friday ) 

Order Cut off Time: 8:00 AM (GMT-05:00) Eastern Standard Time (Monday to Friday)


Shipping Carriers:
DHL Express Worldwide / FEDEX International Priority / UPS Express Saver

We ship to the following countries:

USA, United Kingdom, United Arab Emirates, Singapore, Malaysia, Australia, New Zealand, Nigeria, France, South Korea


Shipping rates:
| | |
| --- | --- |
| Order Value |  Express Shipping Fee |
| $ 0 - $ 9.99 USD | $ 19.99 USD  |
| $ 10 - $ 19.99 USD | |
| $ 20 - $ 29.99 USD | $ 14.99 USD |
| $ 30 - $ 39.99 USD | $ 12.49 USD |
| $ 40 - $ 58.99 USD | $ 9.99 USD |
| $ 59 USD & above |  FREE |
 
For any Shipping / Order tracking related queries, Feel free to contact us on: hello@texinkart.com
Wrong address:
If You provide a wrong address during purchase and the product is returned to us, you have to pay the shipping costs for the returned shipment.
Tracking an order:
You'll receive an e-mail confirmation after order dispatch along with your shipment tracking number, and the tracking link redirects to the carrier's website. If you require any further information, please visit our Contact Us page.
Address Change:
We cannot change the delivery address after shipment dispatch. If you need to change the address before dispatch, please contact us within 24 hours of placing your order at hello@texinkart.com
Get in touch with us at- 
Email: hello@texinkart.com
Address:
5/441, Thiruvalluar Nagar,
Thanakkankulam,
Madurai 625006 IN