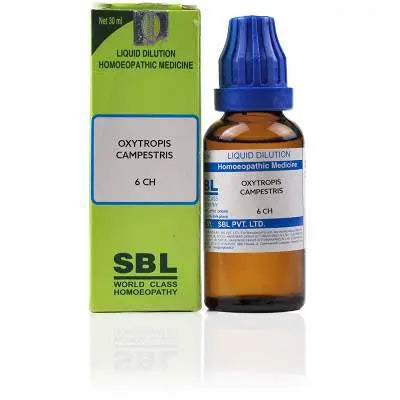 Translation missing: en.products.product.price.regular_price
$4.39
Translation missing: en.products.product.price.sale_price
$4.39
Translation missing: en.products.product.price.regular_price
$7.39
Tax included.
Estimated Delivery:Oct 07 - Oct 11

Free Shipping available on orders above $59 USD

Product description
Shipping
Product reviews
Description of SBL Oxytropis Campestris :-
Causes & Symptoms for Oxytropis Campestris For feeble, staggering, uncertain gait with locomotor ataxia is relieved with Oxytropis Campestris Urging to urinate if he thinks of it, has to pass as symptoms are aggravated after thinking of it. Any little exercise causes cough. Weakness and insecurity of all power of locomotion Mind and Head Disinclined to work, with mental depression and anxiety. Unable to remember words, fails to recall words. Headache with fullness, with dull heavy feeling in the head, with warm sensation in the head. Eyes, ear, nose Pain over the eyes, loss of vision due to exposure to strong lights. Violent sneezing, with fluent coryza somewhat bloody. Mouth and Throat Dryness of mouth with soreness of the throat, with inflammation of larynx. Stomach and abdomen Looseness of bowel with tenderness with fullness and griping pains. Sharp lancinating pains, causing shortness of breath is relieved with Oxytropis Campestris. Stool and Anus Sharp pains in the bowel with stools that is brown, jelly like. Crawling sensation in rectum as if little worms were there. Pain in the anal area are better by passing stool. Urinary complaints Scanty urination, watery urine when thinking of the complaints. Male complaints Bruised feeling pains in the testicles extending to the thigh is relieved with Oxytropis Campestris. Extremities Fine pains all over body is relieved with Oxytropis Campestris. Staggering gait, Stitching pain in right leg and knee-joint Sharp Pain, with coldness, from left shoulder-joint extending down arm.
Thank you for visiting and shopping at Texinkart.com. When you make a purchase from our store, Make sure that you agree to the terms and conditions outlined below.
Transit time & Handling time: 
Handling time: 1- 4 Days ( Monday - Friday )
Transit time: EXPRESS SHIPPING: 3-7 Days ( Monday - Friday ) 

Order Cut off Time: 8:00 AM (GMT-05:00) Eastern Standard Time (Monday to Friday)


Shipping Carriers:
DHL Express Worldwide / FEDEX International Priority / UPS Express Saver

We ship to the following countries:

USA, United Kingdom, United Arab Emirates, Singapore, Malaysia, Australia, New Zealand, Nigeria, France, South Korea


Shipping rates:
| | |
| --- | --- |
| Order Value |  Express Shipping Fee |
| $ 0 - $ 9.99 USD | $ 19.99 USD  |
| $ 10 - $ 19.99 USD | |
| $ 20 - $ 29.99 USD | $ 14.99 USD |
| $ 30 - $ 39.99 USD | $ 12.49 USD |
| $ 40 - $ 58.99 USD | $ 9.99 USD |
| $ 59 USD & above |  FREE |
 
For any Shipping / Order tracking related queries, Feel free to contact us on: hello@texinkart.com
Wrong address:
If You provide a wrong address during purchase and the product is returned to us, you have to pay the shipping costs for the returned shipment.
Tracking an order:
You'll receive an e-mail confirmation after order dispatch along with your shipment tracking number, and the tracking link redirects to the carrier's website. If you require any further information, please visit our Contact Us page.
Address Change:
We cannot change the delivery address after shipment dispatch. If you need to change the address before dispatch, please contact us within 24 hours of placing your order at hello@texinkart.com
Get in touch with us at- 
Email: hello@texinkart.com
Address:
5/441, Thiruvalluar Nagar,
Thanakkankulam,
Madurai 625006 IN